Chimney Repair in Waterford, MI
Repair & Restore Your Chimney with Expert Mason's
Chimneys play a crucial role in homes and businesses by safely venting smoke and heat from fireplaces, stoves, and furnaces. Over time, however, weather, exposure, and use can deteriorate your chimney and the brick face, posing potential hazards and costly structural damage. Top Hat Masonry in Waterford, MI, specializes in comprehensive chimney repair services for homeowners and commercial property owners that protect your valuable investment and ensure the longevity and functionality of your chimney.
As your local experts in stone and brick masonry repair, Top Hat Masonry addresses not only apparent issues but also identifies hidden problems that might compromise the integrity of your chimney, including water entry, loose bricks, and deteriorating mortar joints. Our experienced team utilizes cutting-edge technology and high-quality materials to repair and restore your chimney to peak performance.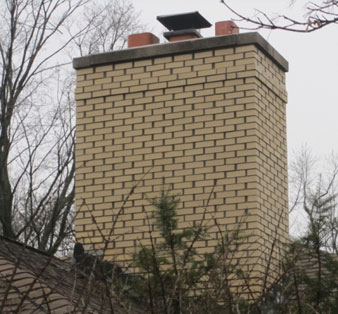 Fix Your Chimney With Expert Mason's Today!
---
Contact Top Hat Masonry today for your chimney repair needs.
(248) 739-3065
Revive Your Property with Tuckpointing
---
Tuckpointing is a specialized process that replaces deteriorating mortar joints between bricks or stones, revitalizing the chimney's structure and extending its lifespan. Left untreated, damaged mortar joints can lead to significant structural problems and costly repairs down the line. Top Hat Masonry's highly skilled technicians meticulously remove old, weathered mortar and replace it with fresh, resilient mortar to create a robust barrier against water entry and chemical attack.
Proactively addressing deteriorating mortar joints optimizes your chimney's performance and protects your home or commercial property's structural integrity.